Please join us Tuesday, September 19th at White Mountain School for our Suicide Prevention Walk. Immediately following the walk, parents are invited to our cafeteria for our Title 1 meeting and migrant parents are invited to our Migrant meeting. One Under Armor backpack will be given away to a parent who signs in to one of the meetings following the walk.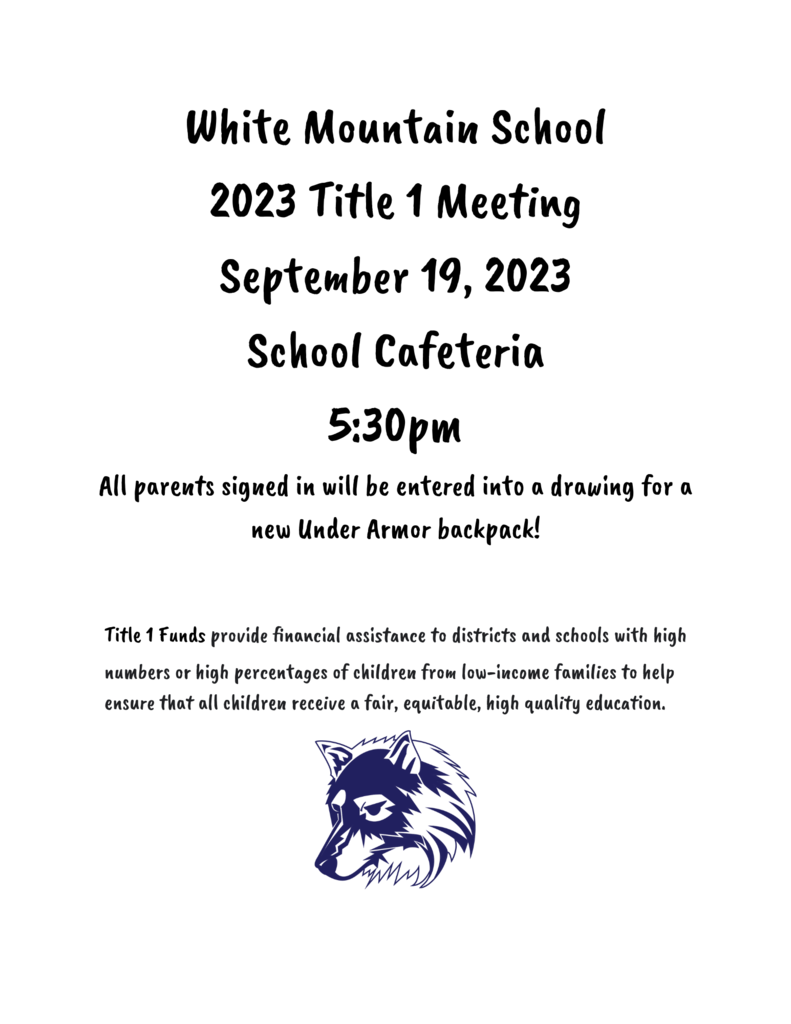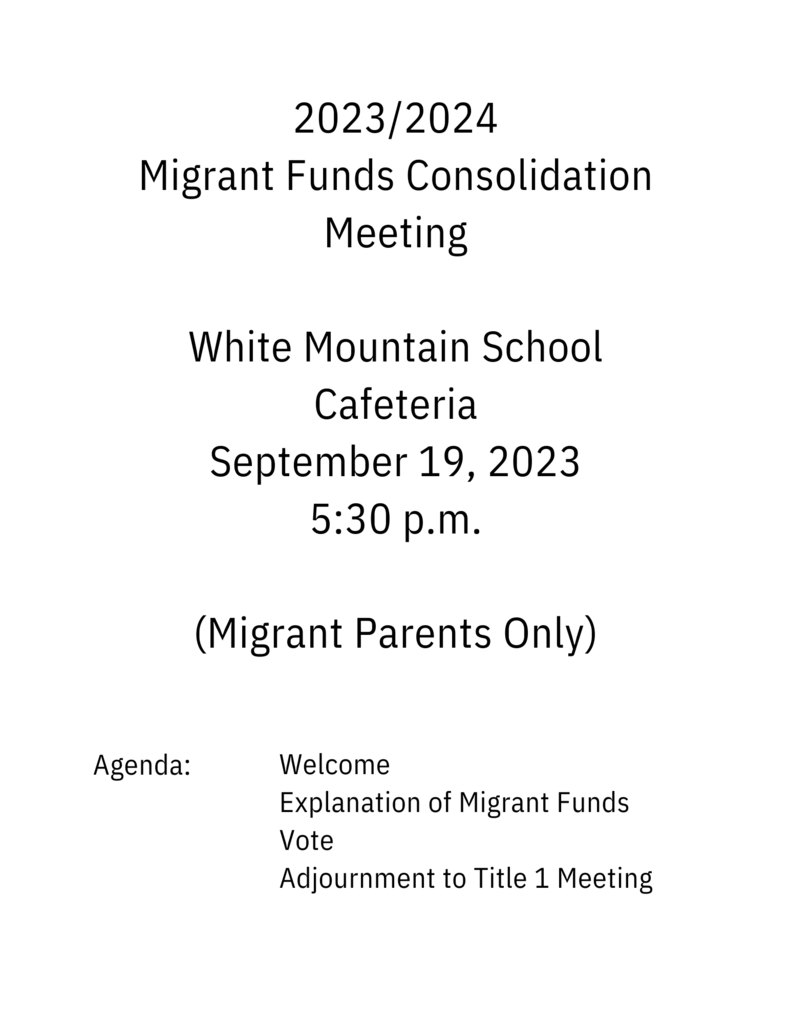 It's almost that time!
Public Notice: Two open seats on White Mountain School AEC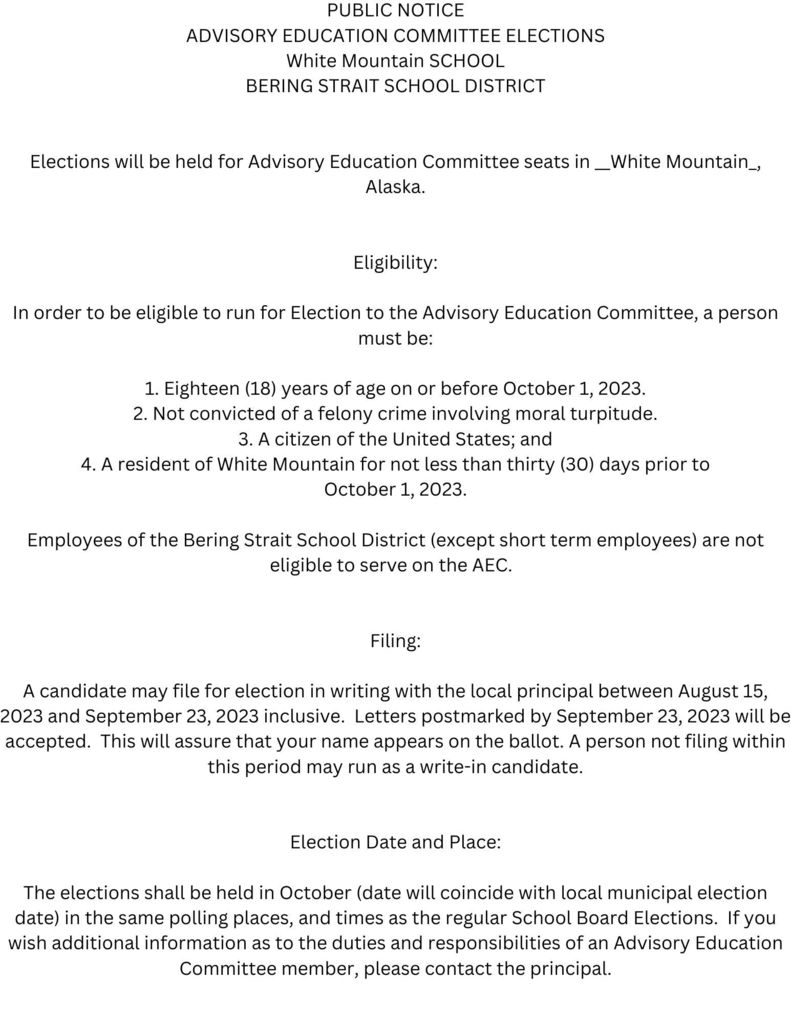 Be on the lookout for "What Students Should Know in Reading" Informational sheets during the month of August. Each week we will highlight different grade levels from Kindergarten to 5th Grade. 📖 This week we will highlight: "What KINDERGARTEN Students Should Know in Reading".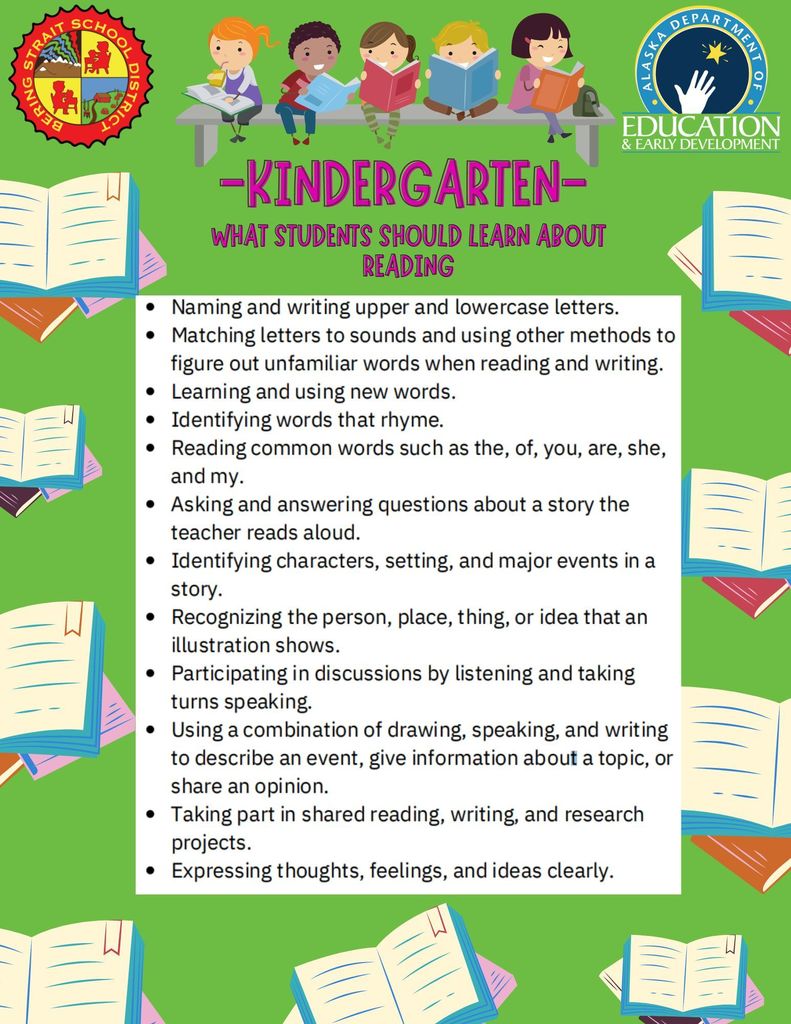 ANNOUNCEMENT! National Native American Environmental Awareness Summer Youth Practicum 2023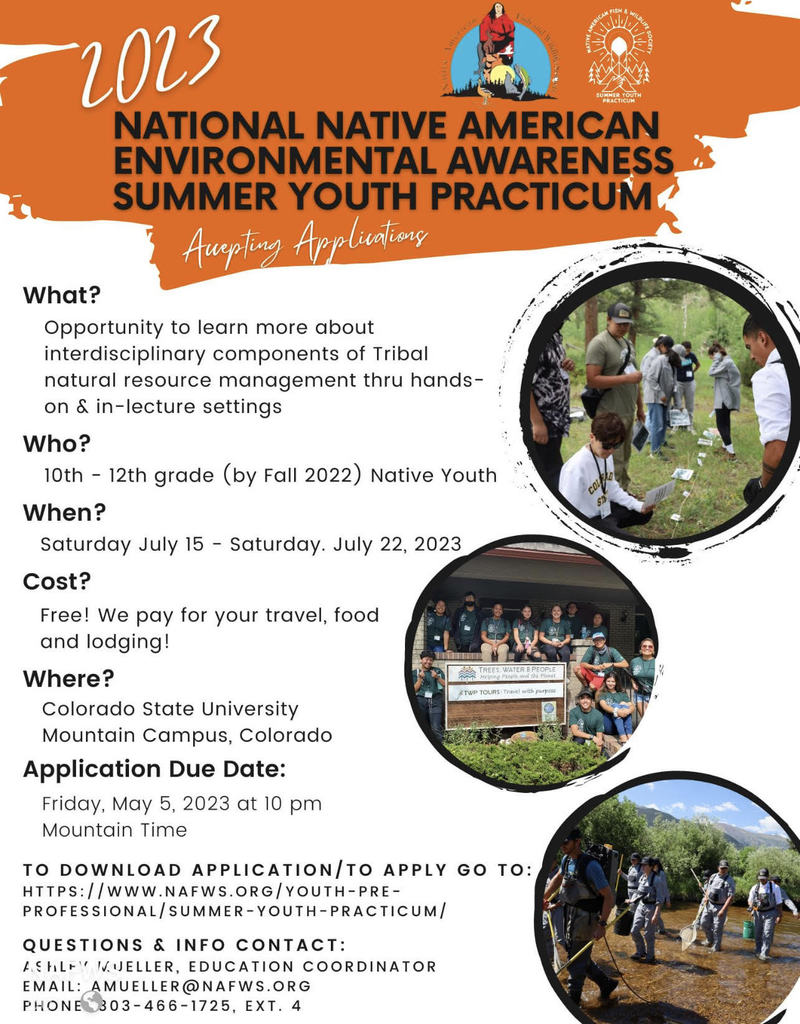 PUBLIC NOTICE: The Bering Strait School District Board of Education is scheduled to meet on Wednesday, April 19, 2023 for the 236th Regular Session via zoom at 4:00 PM and Thursday, April 20 at 10:00AM in Stebbins. The public is invited to attend. Join Zoom Meeting:
https://us06web.zoom.us/j/86784050470



Don't forget to set clocks ahead one hour this weekend. Happy Spring Break and safe travels to all who are traveling!!!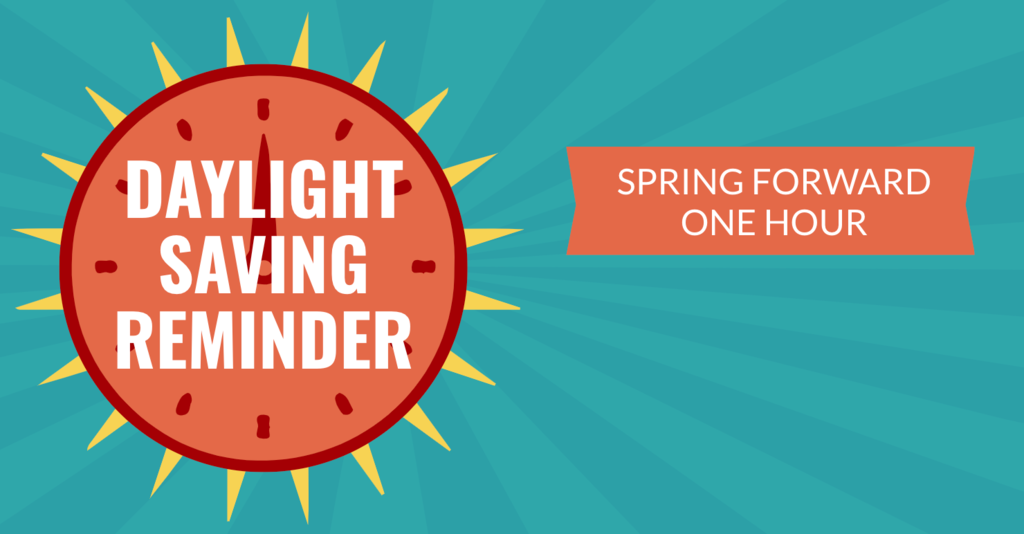 Early out at 1:30 today, 12/16. Please enjoy the Holiday Break with family and friends safely and we'll see everyone back at school Jan. 5, 2023
Remember, elementary wrestling exhibition at 2 pm at school and then a Native dancing and drumming event immediately following to start the Thanksgiving Holiday weekend. Everyone welcome.
Happy almost Thanksgiving. AEC members and families and staff members and families are welcome to eat turkey lunch today at noon. At 2:00 there will be a wrestling exhibition in the gym for the elementary wrestlers who didn't get to travel.

Congratulations to the Wolves Volleyball team for bringing home the hardware in the Unalakleet Smash Classic this past weekend. Wolves won the tournament, and the MVP girl award to Annie Lockwood, and the MVP boy award to Tristan Ashenfelter.
Volleyball Friday night -4 pm WMO-ELI, 7 pm ELI-SMK, 9 pm SMK-WMO
The weather for Monday, tomorrow, 8/29, is supposed to be better than on our tentatively planned Wednesday picnic day. School will have the welcome back to school picnic tomorrow, Monday, 8/ 29, noon, at Scow John.
End of school picnic in the middle of town 5/19 after awards in the gym around 10 am.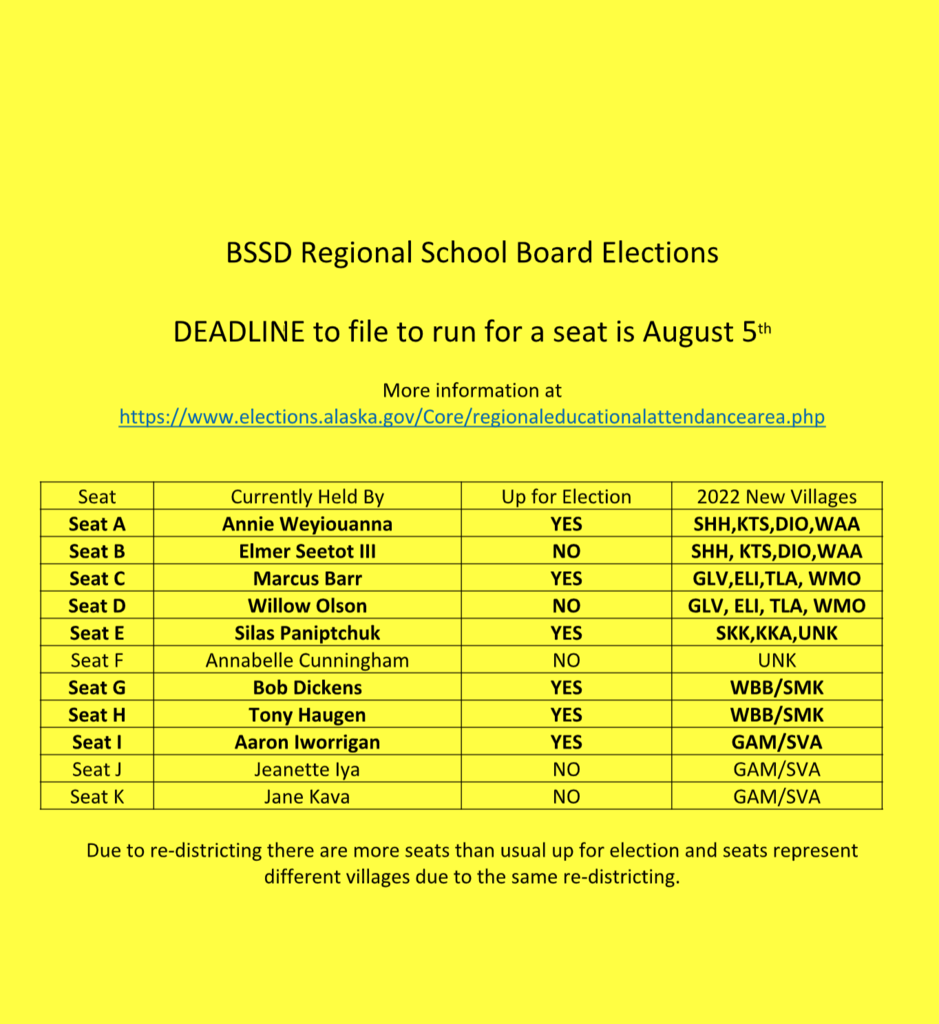 Congratulations to our winners of Best in Show! Thank you so much to everyone who took a moment to vote, did the hard work of creating artwork to submit, supported students in the submission process, or otherwise helped make this virtual event a reality! To view all winners and see the full show, follow this link:
https://sites.google.com/bssd.org/arts/k-12-online-art-show/2021-2022-art-show